Centipede
Centipede is very durable and is fairly low maintenance compared to most other grasses. Cold winters can prove problematic as it does not possess the cold tolerance of Bermuda or Zoysia. Available at our Birmingham, Fort Walton Beach, Gulfport, Panama City Beach, and Pensacola locations.
| | |
| --- | --- |
| Color | Medium green |
| Texture | Moderately coarse blade structure. |
| Soils | Centipede tolerates a relatively wide range of soil types, but is best suited to well-drained, fertile soils. |
| pH Tolerance Range | 5.0 to 6.0 is ideal but can tolerate a pH of up to 7.0. |
| Wear Tolerance | Centipede has good recuperative qualities and is fairly wear resistant due to a relatively coarse blade structure. However, it is not recommended for high-traffic areas. |
| Shade Tolerance | Centipede has little shade tolerance. |
Watering
Newly planted Centipede should be watered daily and thoroughly soaked to a depth of three inches for the first two weeks to avoid drying out. Continue to water daily for the following two weeks with a reduced amount of water until the lawn is established. Once Centipede is established, watering needs will vary based on the type of soil present. It is always best to mimic the environment by watering heavily every few days rather than watering lightly every day. For sandier soils, 3/4 of an inch per watering will completely saturate the soil and everything else will simply percolate through. For heavier clay soils, you can water up to two inches at a time before saturation is reached. For this reason, heavy soils should be watered heavily but less frequently (every 3-4 days) and sandy soils will need less water but more frequency (every 2-3 days).
Mowing
An established Centipede lawn should be mowed every week to 10 days during the growing season with an optimum mowing height of 1–2 inches. Mow with a sharp rotary or reel mower, allowing clippings to remain on the lawn. Never remove more than 1/3 of the shoot growth at one mowing. Centipede has minimal thatch build-up and therefore seldom requires dethatching.
Maintenance Program
Centipede should be fertilized with little to no nitrogen. An ideal application would be 15-0-15.
Century Centipede Seed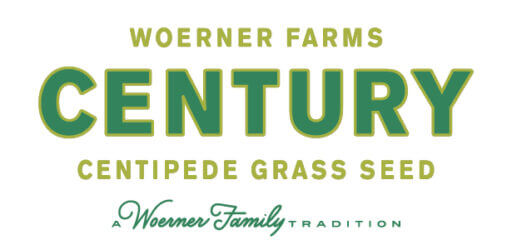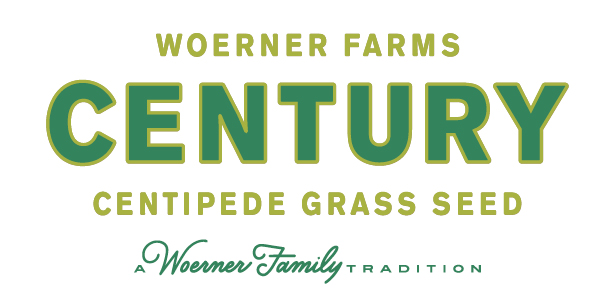 Century Seed has been producing top-quality centipede grass seed since 1987. Today, Century Seed is proud to introduce a complete line of centipede seed products to cover all applications. Century Seed triple cleans, packages, markets, and ships all of its seed to guarantee the best quality centipede products on the market today.
The seed is now available with Century Seed's special Bio-Kote coating, enhanced with the systemic fungicide Apron® XL. The non-coated seeds are also enhanced with Apron® XL, and all seeds are Bermuda and noxious weed-free. Century Seed's packaging has been improved to make handling easier and more convenient. The new, clear, weatherproof PVC containers come with shaker-top lids for ease of application.
Centipede seed originated in China a century ago and was brought to the US, now brought to you by Century Seed, a member of the Southern Seed Association. Centipede has proven itself to be the best all-around lawn grass for most sections of the South, particularly the Southeast. In essence, Century Seed Century™ Centipede Seed with Bio-Kote is The Centipede Grass Seed from the Far East to the Southeast. Century Seed Century™ Centipede Seed is produced by Woerner Farms™, an industry leader in turf grass production for generations. All Centipede sod grown on Woerner Farms™ is grown from Century Seed Century™ Centipede Seed with Bio-Kote. Centipede seed is also available raw and in bulk.
Centipede Planting Rates
Plant no less than one-fourth (1/4) pound per 1,000 square feet. One pound of seed covers 2,000 to 4,000 square feet and often produces a good lawn in two to three months of summer growth – We recommend planting 1/2 lb. per 1000 sq. feet for best results. Centipede is slow to establish, so patience is required.
Ready to Place Your Next Order?
Begin the process online and get a quick invoice for both in-store pick up and on-site delivery.