Once established, Fescue is proven to require less water due to its ability to grow an extensive, deep root system tapping into deeper water sources. The addition of newer Fescue and Texas Hybrid varieties in our blend means that 90/10 Fescue can spread and "fill in" and repair itself like bluegrass. Available at our Brighton, CO location.
| | |
| --- | --- |
| Color | Dark green |
| Texture | Very uniform, dense, medium blade width. |
| Soils | Fescue tolerates a relatively wide range of soil types but is best suited to well-drained, sandy soils. Fescue is recommended where higher than normal sodium levels are present. |
| Wear Tolerance | Rhizomatous properties enhance wear tolerance, and "self-filling" properties make Fescue very competitive against weed invasion. |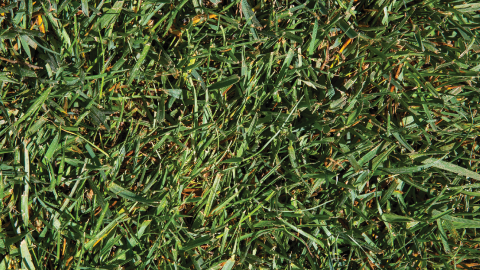 Watering
To avoid dry-out, newly planted Fescue should be watered daily 2-4 times per day, depending on the temperature, for the first two weeks. For the next two weeks, continue to water daily but reduce the amount of water. Once established, water needs will be less compared to bluegrass, as Fescue grows a deep root system that is able to tap into deeper water sources, making it more heat and drought-tolerant. Many factors influence lawn water requirements. Fescue may need up to two inches of water per week under hot, dry, windy summer days, but will require much less when the weather is cool or cloudy. Fescue is best maintained with deep, infrequent irrigation to promote a deep and healthy root system.
Mowing
The minimum height for Fescue lawns is 2.5 inches, while the preferred mowing height is 2.5-3.5 inches. Mowing less than the recommended height can result in decreased drought and heat tolerance and a higher incidence of insects, diseases, and weeds. Mow Fescue often enough so no more than 1/3 of the grass height is removed at any single mowing to prevent scalping. Mow every 3-4 days during the spring when it is actively growing, but only once every 7-10 days when growth is slowed by heat, drought, or cold.
Maintenance Program
The below comments are meant only as a general guideline and should be adjusted according to conditions. Soil tests are encouraged to establish a scientific basis for fertility decisions.
Nitrogen is the most important nutrient for promoting good turf color and growth. Do not over-stimulate the turf with excess nitrogen, especially during spring and summer. Balanced fertilizers contain various amounts of phosphorus, potassium, iron, and sulfur. They are a good safeguard against a potential nutrient deficiency.
Suggested FERTILIZER PROGRAM
| | |
| --- | --- |
| March – April | ½ Lb N/ 1000 Sq. Ft. |
| May – June | ½–1 Lb N / 1000 Sq. Ft. |
| July – August | Not Required |
| September – November | 1–2 Lb N/1000 Sq.Ft. |
90/10 Fescue Varieties
Memphis Turf-Type Tall Fescue (30%)
Memphis Turf-Type Tall Fescue (30%)
Saltillo Tall Fescue (30%)
Bandera Texas Hybrid Bluegrass (10%)
Characteristics
Extreme dark color
Rapid establishment
Great traffic tolerance
Rhizomatous tall fescue
Resistant to brown patch and other common diseases
Heat tolerant
Well-adapted to lower-fertility soils
Produces rhizomes and large numbers of tillers
Excellent heat tolerance and heat resistance
Maintains excellent turf uniformity
second-generation hybrid
Improved color and texture over Thermal Blue