By blending these quality bluegrasses, we have created a superior sod well-suited for our region and climate. Our unique blend gives an outstanding combination of important characteristics that are essential for high-quality bluegrass. Available at our Brighton, CO location.
| | |
| --- | --- |
| Color | Medium to dark green |
| Texture | Very uniform and dense |
| Soils | Bluegrass tolerates a relatively wide range of soil types but is best suited to well-drained, fertile soils. |
| Wear Tolerance | Very aggressive, low, spreading growth habit makes bluegrass well suited for high-traffic areas and sports fields. |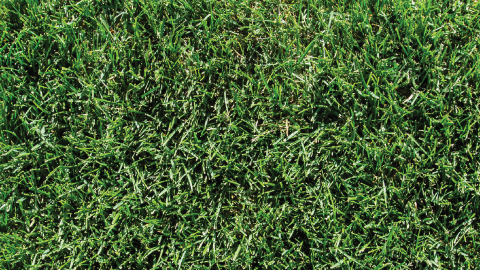 Watering
To avoid dry-out, newly planted Bluegrass should be watered daily 2-4 times per day for the first two weeks, depending on the temperature. For the next two weeks, continue to water daily but reduce the amount of water. Once established, watering needs will vary based on the type of soil present. Many factors influence lawn water requirements. A healthy, high-quality bluegrass lawn may need up to 2.25 inches of water per week under hot, dry, windy summer days. It may require less when the weather is cool or cloudy.
Mowing
The minimum height for Bluegrass lawns is two inches, while the preferred mowing height is 2-3 inches. Mowing less than the recommended height can result in decreased drought and heat tolerance and a higher incidence of insects, diseases, and weeds. Mow Bluegrass often enough so no more than 1/3 of the grass height is removed at any single mowing to prevent scalping. Mow every 3-4 days during the spring when it is actively growing, but only once every 7-10 days when growth is slowed by heat, drought, or cold.
Maintenance Program
The below comments are meant only as a general guideline and should be adjusted according to conditions. Soil tests are encouraged to establish a scientific basis for fertility decisions.
Nitrogen is the most important nutrient for promoting good turf color and growth. Do not over-stimulate the turf with excess nitrogen, especially during spring and summer. Balanced fertilizers contain various amounts of phosphorus, potassium, iron, and sulfur. They are a good safeguard against a potential nutrient deficiency.
FERTILIZER PROGRAM
| | |
| --- | --- |
| March – April | ½-1 Lb N/1000 Sq.Ft. |
| May – June | 1 Lb N/1000 Sq.Ft. |
| July – August | Not Required |
| September – November | 1–2 Lb N/1000 Sq.Ft. |
Bluegrass Varieties
America Kentucky Bluegrass (25%)
Rhapsody Kentucky Bluegrass (25%)
Skye Kentucky Bluegrass (25%)
Moonlight SLT Kentucky Bluegrass (25%)
Characteristics
Superior drought resistance, shade tolerant
Excellent resistance to common diseases
Dark green color, shade tolerant
Good spring greenup
Wear tolerant, rapid establishment
Ideal for sports turf and high-traffic areas
Germinates and establishes more rapidly
Aggressive type of Bluegrass, excellent density
Outstanding turf quality, lower growth habit
Very dark color
Improved salt tolerance