Attracting butterflies to your garden can be a delightful way to enjoy their beauty and contribute to their conservation. Here are some plants known to attract butterflies: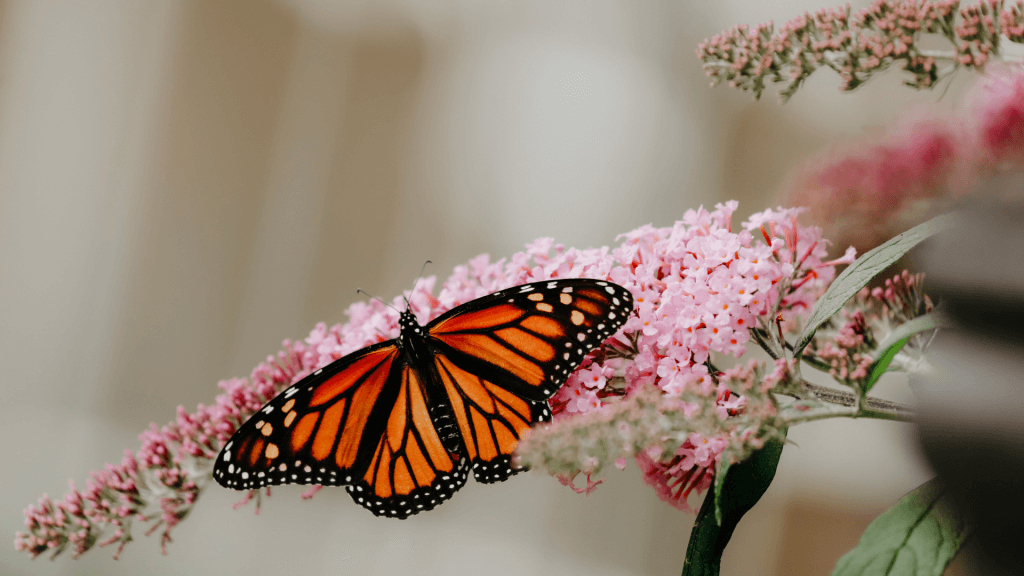 Butterfly Bush (Buddleja):
As the name suggests, the butterfly bush is a popular choice for attracting butterflies. It produces long spikes of fragrant flowers in various colors, including purple, pink, and white. It is a nectar-rich plant that attracts numerous butterfly species.
Milkweed (Asclepias):
Milkweed is a critical plant for monarch butterflies, as it is the sole food source for their caterpillars. It produces clusters of beautiful flowers and provides nectar for a variety of butterfly species.
Lantana:
Lantana is a colorful flowering plant that produces clusters of small, tubular flowers. Its vibrant flowers attract butterflies, including swallowtails and monarchs. Lantana comes in a range of colors, such as orange, pink, yellow, and purple.
Purple Coneflower (Echinacea):
Purple coneflower is a native wildflower with distinctive purple petals and a prominent cone-shaped center. It attracts butterflies with its nectar-rich flowers and also provides seeds for birds.
Black-eyed Susan (Rudbeckia):
Black-eyed Susan is a cheerful wildflower with yellow or orange petals and a dark brown center. It attracts butterflies and other pollinators with its abundant nectar.
Joe-Pye Weed (Eupatorium):
Joe-Pye weed is a tall perennial plant that produces clusters of pink or purple flowers. It is highly attractive to butterflies, especially swallowtails and monarchs.
Verbena:
Verbena is a low-growing plant that produces clusters of small, colorful flowers in shades of purple, pink, red, or white. It is a favorite of many butterfly species, including painted ladies and skippers.
Zinnia:
Zinnias are annual flowers that come in a wide range of colors and sizes. They are highly attractive to butterflies and provide a long-lasting source of nectar.
Marigold: 
Marigolds are bright and aromatic flowers that attract butterflies. They come in various sizes and colors and are easy to grow.
Aster:
Asters are fall-blooming perennials that produce daisy-like flowers in shades of blue, purple, pink, or white. They attract butterflies, including monarchs, during their migration.
By incorporating these plants into your garden, you can create a welcoming habitat for butterflies and enjoy their presence throughout the growing season. It's important to provide a variety of plants with different blooming times to ensure a continuous source of nectar for the butterflies. Be sure to check out our nurseries in Birmingham and Pensacola!